It's certainly no secret that organisations worldwide have been actively seeking ways to cut costs as the global recession takes hold. Companies are trying to balance cost control with wider responsibilities such as environmentally sustainable travel. Yet the need to travel remains a fact of life in the business world – building new relationships, maintaining current ones and facilitating growth overseas. Whilst the digital age has certainly opened up a whole new world of communication – it seems there really is no substitute for a good old-fashioned, firm handshake.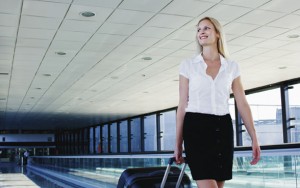 Managing Director of gosimply.com Tim Hagger comments: "Whilst we here at gosimply appreciate the need for companies – ourselves included – to adopt some kind of corporate social responsibility in terms of sustainable business travel, we also recognise that this continues to be a growth market. As with all our products – our focus is on providing the most comprehensive package at the best possible price."
Annual business Travel Insurance from gosimply.com not only represents excellent value for money,  it also includes cover for business documents and complimentary Priority Pass membership – providing access to over 600 airport lounges worldwide – a huge bonus for business people that travel on a regular basis. Also, if you're making several trips per year, you'll most likely find that an annual policy offers better value for money than buying separate policies on an 'ad hoc' basis.
With such a wealth of online deals readily available, this is one that stands out, making it a business opportunity too good to miss.
Leave a Reply