New Zealand is one of the most popular destinations for backpackers. An array of mountains, glaciers and lakes offers an awe inspiring scenery. To anyone who enjoys the great outdoors, this is one of the best countries in the world to take part in outdoors activities. In the space of a week, you can bungee jump, go white water rafting, swim with dolphins, watch whales and hike through a rainforest!
Day 1 – Christchurch
Christchurch is the South Island's largest city. Cathedral Square  in the centre of the city is the best place to start your journey. The Christ Church Cathedral which towers over the square is one of the city's most popular attractions with visitors coming to admire the gothic architecture. For awesome views over the city, climb the 133 steps to the cathedral's spire to the lookout balconies.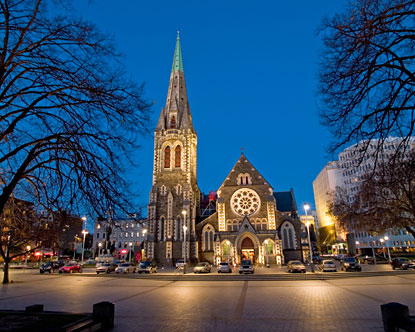 Botanical Gardens, situated on the banks of the Avon River. They have a distinct English feel to them and the rose gardens, conservatories and lush gardens collectively make for a very pleasant afternoon.
In the evening, head to Oxford Terrace near the city centre where the majority of the city's best bars and clubs are. If you don't fancy hitting the bars and clubs, the city has a wide range of top quality restaurants which will suit anybody's taste.
Day 2 – Christchurch to Queenstown
Stop off on route to break your journey to Queenstown. Mount Cook National Park is 3-4 hours from Christchurch and home to Mount Cook, the highest mountain in New Zealand.
Before you get to the national park you will reach Lake Tekapo. A visit to this lake is a must. With snow-capped Mount Cook sloping down to its turquoise water, it makes for a very idyllic location. And if you feel in touch with your spiritual side around Lake Tekapo you can visit the Church of the Good Shepard.
On arrival in Queenstown, book into your accommodation, relax and recharge your batteries. This small town on the shores of Lake Wakatipu is full of activity so you will need as much energy as possible for your next few adventure filled days.
Day 3 – Bungy jumping over Nevis Valley
Queenstown is popular with backpackers as it's a base for so many adventure sports. Some of the adrenaline sports you can do here include bungy jumping, skiing and white-water rafting.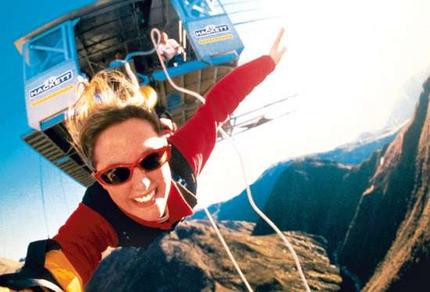 If you want to do a bungee jump that is like nowhere else in the world this is definitely the place to do it. AJ Hackett are the flagship bungy company in Queenstown and run jumps from The Nevis Highwire Bungy costing around £106 per adult. The jump pod, purposely made for bungy jumping, stands at 134 metres high – the same as the height of the Sydney Harbour Bridge. With 8 ½ seconds of freefall, the river seems to rush towards you faster than you're rushing towards it!
Day 4 – White water rafting on Kawarau River
New Zealand has some of the fiercest rivers in the world, making them perfect for white-water rafting. The Kawarau River is the closest to Queenstown and offer rafters an exhilarating experience while enjoying the breathtaking scenery. Organised rafting tours from Challenge Rafting usually take half a day and leave both in the morning and afternoon costing around £76 per adult. Between rapids you will experience calmer stretches of river, with a great view of the historic Kawarau Bungy Bridge as your raft passes underneath.
A day's rafting through numerous rapids on one of the world's ferocious rivers can take a lot out of you. At sunset wind down at Lake Wakatipu and gaze at the aptly named Remarkables, a range of 'remarkable' mountains at the lake's shore.
Day 5 – Queenstown sightseeing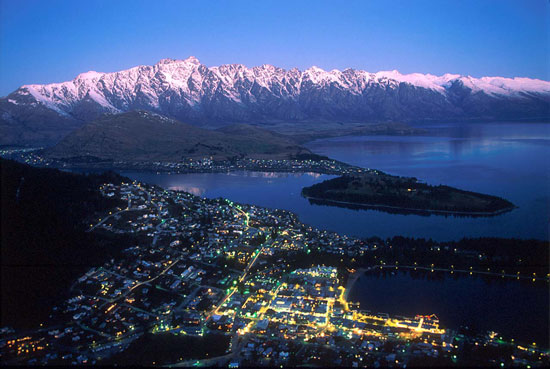 As there is so much to do in Queenstown on the activity front, it is nice to explore this scenic town by foot. Walk along the shores of the lake which begins on Peninsula Street and the walk up to Queenstown Hill. For a bird's eye view over the town, take a trip on the Skyline Gondola. It climbs up to the top of a hill where you can enjoy the spectacular views of Coronet Peak, The Remarkables mountain range and Lake Wakatipu.
Day 6 – Overnight in Christchurch
Another chance to see what Christchurch has to offer. A visit to the Orana Park Wildlife Trust is a must. Set in 80 hectares of park-like grounds, Orana Wildlife Park is home to over 400 animals from 70 different species and is New Zealand 's only open range zoo. The Park is located 25 minutes drive from the City centre, backpackers should make use of the transport service with Sunshine Shuttles between the city and the Park.
Day 7 – Whale watching in Kaikoura
Two hours drive north of Christchurch will bring you to the sleepy seaside town of Kaikoura, meaning 'to eat crayfish'. When in Kaikoura, you have to sample some of its famed crayfish – you don't have to splurge out in one of the restaurants, some of the takeaways also sell some tasty cray fish.
The Kaikoura coastline attracts some of the most magnificent creatures, including whales that can grow up to 20 metres and weigh over 50 tons. These whales can be seen all year round making Kaikoura one of the most popular whale watching locations in the world. Book your whale watching trip in advance with the operator Whale Watch Kaikoura for approx £63.
Day 8 – Swim with dolphins
For a chance to swim with dolphins in the open ocean. Contact the operator Dolphin Encounter to book your pleace to swim with wild dusky dolphins which occupy the waters around Kaikoura all year round – something which can't be done in too many places around the world. It will cost you approx £66 to swim with the dolphins or £35 to watch the dolphin encounter. Either way, a truly unforgettable experience!
If you really want to enjoy your New Zealand Trip make sure you take out your cheap backpacker insurance.
When Liverpool clerk Frank Hornby invented his Meccano toy construction kits back in 1901, he never could have guessed that a 21st Century Bristolian TV presenter would use his creation to span a canal near the Liver Building.
But that's exactly what James May did earlier this year as part of his "Toy Stories" series.
In September, May unveiled the 75-foot long bridge and proceeded to cross the canal on the 1/2 tonne contraption. It was engineered by Atkins, the design and engineering consultancy and took 20 people more than six weeks to complete (students from the University of Liverpool's Engineering Department were even roped in to assist).
The final product is even believed to be a new world record for the largest Meccano bridge ever built, with 100,000 individual parts – including 28,000 bolts!
Now, this got us thinking…with the new expansion taking place at Liverpool Airport, there will undoubtedly be increased demand for convenient Liverpool Airport parking. Soooo…maybe we could get Mr. May to construct a multi-storey car park from the multitude of metal components he apparently has access to, thereby alleviating any potential traffic congestion and providing a relatively cheap solution for travellers in the Northwest.
What do you think? Would you park in May's Amazing Meccano Multi-Storey Car Park?